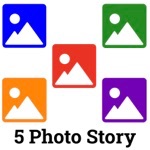 DEFINITION
A five photo story is a collection of five images which tell a story of some kind without using supplementary text, audio or video. The five photos should "stand alone" as a story.
A "Story in 5 Photos" project can include five different photos or images either captured with a digital camera or located online. This can be setup as a "visual charades" activity, where students create a visual story and their 'audience' is asked to guess the topic or subject. Students generally respond to a prompt or challenge which requires creativity and imagination to complete. Examples might include:
Tell a story in 5 photos of a favorite fairy tale
Tell a story in 5 photos of a favorite book
Tell a story in 5 photos of a scientific process
This activity requires higher order thinking including synthesis and evaluation. Students not only need to understand the story or concept they will represent, they also are required to make decisions about which characters, plot elements, and concepts to include among many possible options. Original inspiration came from Dr. Curby Alexander. See Curby Alexander and Thomas Hammond's article, "Five-Picture Charades: A Flexible Model for Technology Training in Digital Media Tools and Teaching Strategies" for more background.
While originally designed as a "visual only" activity, 5 Photo Stories can also be created as narrated slideshows or eBooks including student audio narration. This is "menu thinking" with media projects.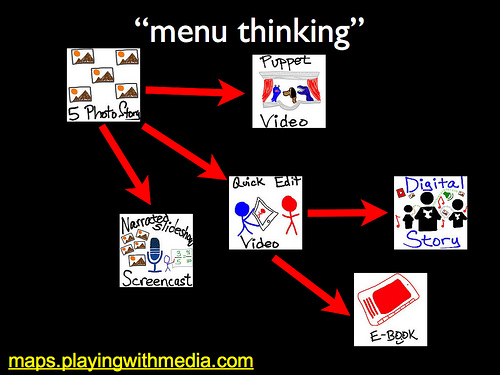 WORKFLOW
Initial Setup
The easiest way to have students take photos and turn them in is to use a mobile device like a smartphone or tablet computer. One mobile device capable of taking photos AND emailing those photos is required per student group.
If using school-provided tablet computers like iPads, each iPad should be configured with an email account for SENDING email messages and attachments prior to the lesson. The same account can be used for all iPads, coordinate this with your local IT department.
One way for students to "turn in" their photos is to email them to a website which accepts submission by email.
Alternative websites can be used for students to "turn in" their photos. Free options include Edmodo and MyBigCampus. As a teacher, create an assignment for students to submit photos following project guidelines.
A file sharing website like DropBox can also be used for students to submit/turn in photos, but this will probably work best if students create a media product (single file) with their photos FIRST before submitting. Examples can include an iPad Keynote presentation or an eBook in ePUB or PDF format. Consider using a free service like SendToDropbox so students can email their projects to a specific folder in your teacher DropBox account.
Lesson Steps:
Students plan their photos. (Creating a written storyboard is recommended)
Students take their photos.
Students submit ALL five photos either as attachments to a single email message to a blog or to another online destination as a single, combined file.
If students want to create a narrated slideshow, narration
TOOLS
Generating Story Ideas:
"Emoji Writing Prompt Generator" – Google Sheets link (via @ericcurts – Google Drawings for Graphic Organizers)

5 Card Flickr (by @cogdog)
Websites for Uploading in Sets / Galleries
Flickr (Create a group like "Tell a Story with 5 Photos for Educators")
PicasaWeb (mobile version)
Websites for Posting by Email
Blogger FREE – (allows posting "drafts" for moderation)
Posthaven $5/month – (no draft/moderation mode YET)
Tumblr FREE – (no post moderation possible – NOT recommended for K-12 student /classroom use)
iOS Apps (with image hosting provided)
iOS Apps (no image hosting)
For Project Submission:
Blogger
EXAMPLES
Image-Only 5 Photo Stories

Narrated 5 Photo Stories

Classroom Photo 365 Project (can be great for visual storytelling)
Additional eBook examples are linked on ebooks.playingwithmedia.com and on share.playingwithmedia.com
Extension Ideas
Consider creating "wordpress picture books" as eBooks! (See these paper-based examples from @goodreads)
Workshop description: It's helpful to think of digital storytelling as a "menu" of options which can begin with 5 photo stories that simply include images without accompanying text or narration. Students can create 5 Photo Stories to demonstrate their understanding of concepts and skills in the curriculum. In this workshop we'll learn and practice different ways to create and share 5 Photo Digital Stories. 5 Photo Stories can serve as the foundation or "bridge" to other digital media projects including narrated slideshows and digital stories.
Workshop resources: wiki.wesfryer.com/Home/handouts/5photos 
* Image attribution: 5 Photo Story image created by Wesley Fryer using Brushes for iPad