DEFINITION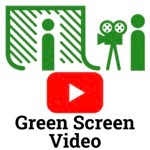 A "green screen video" is a type of quick edit video which utilizes specialized software to chroma key composite two or more digital images together. Green screen videos can include static/still images in the background or foreground, and/or video clips. Weather segments on television are a common use situation for green screen videos. Green screen videos allow subjects to "magically transport" themselves to a variety of locations and potentially "report live" from exotic places.
WORKFLOW
PLAN: Make a storyboard to plan the introduction, main points, and conclusion of your video (just like a written paragraph or essay). Plan what actors/actresses will say AND the desired background.
PHOTOS: Take or find and save images to use as background photos. Save each photo to your iPad Camera Roll.
RECORD CLIPS: Use the "regular" camera app on a mobile device to record videos of participants talking in front of a well-lit green screen
GREEN SCREEN EFFECTS: Use the Green Screen by Do Ink app on an iPad to add background images and/or videos for each scene. Save each scene to your iPad camera roll.
COMBINE CLIPS: Use iMovie for iPad to combine your clips/scenes into a single, final video. Export at 720p.
SHARE: Use the YouTube Capture for iPad app to upload your final video to YouTube.
iPAD APPS
Green Screen by Do Ink ($3 for iPad)
YouTube Capture (free)
iMovie for iPad (free with newer iPads)
Chromebook Tools
FREE PHOTO SOURCES
Photos for Class (student/class-friendly, includes attribution!)
MorgueFile.com has excellent FREE photos (student/class-friendly)
EQUIPMENT
Fancier Chromakey Green Screen Kit 1000 Watt Video Lighting Kit Photo Studio Kit Umbrella Softbox Kit ($140)
Replacement large bulb ($20)
Makayama iPad Tripod Mount (for iPad2 – expensive and doesn't work with other iPad models)
Standard camera tripod
PHOTO TRANSFER SUGGESTIONS
Use AirDrop to send photos or videos between iOS devices or from an Apple laptop computer (remember to turn on WiFi AND Bluetooth!)
Use PhotoSync to share photos or videos ($3 iOS/Android app, laptop software is free)
EXAMPLES

Other Resources & Ideas
Use a LIME GREEN shower curtain (very inexpensive!) as a green screen
Use bright green butcher paper as a green screen