DEFINITION
An animation can be a dynamic, visual representation of an idea or process. A game or simulation can be interactive, requiring user input. A game is an activity based on rules involving play and user interaction. Games can be competitive.
WORKFLOW
Initial Setup
Teacher obtains and installs authoring software
Students create individual accounts to publish and share their inventions.
Ongoing Use
Teams brainstorm, plan, design and storyboard an idea.
Individuals create different elements required in and for the project.
Project elements are combined into a final product and shared with others.
TOOLS (laptop/desktop software)
TOOLS (iOS apps)
TOOLS (browser-based)
SCRATCH EXAMPLES
Scratch Simulations

Mitosis (Scratch)
New Year Fireworks (Scratch)
More Outstanding Scratch Simulations (Scratch gallery)

Scratch Games
MINECRAFT EXAMPLES

More MinecraftEDU lesson ideas & resources are available on Wes' STEM website including the MinecraftEDU Redstone Engineering Challenge and the MinecraftEDU Treehouse Challenge (on perimeter & area).
RECOMMENDED READING
MORE RESOURCES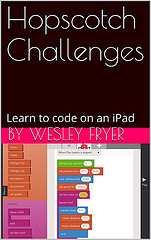 FREE  eBook: "Hopscotch Challenges" (more info)
Video Tutorials:
Scratch and Microworlds Resource site by Lois Smethurst.
Learn Coding
The Elsewhen Brainery (free coding classes)
See these April 2012 posts by Wesley Fryer for more information about GameSalad:
More info and curriculum suggestions about Scratch are available on the Scratch Camp Wiki.
* Image attribution: Digital art created by Wesley Fryer using the iPad app "Brushes"